Rachel Maddow posted it and Juanita Jean echoed it. Here's a picture of all the chairs of the House Committees.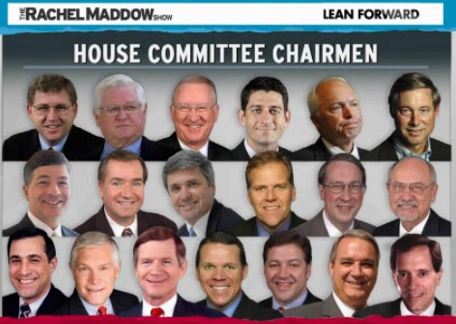 Juanita Jean's commenters came out in fine style. Aggieland liz said, "I know a song about 'A Whiter Shade of Pale?'"
One of my favorite commenters, daChipster, came back with:
They skipped the PC tango
While holding the House floor
They dropped the female chairmen
But Grover called for more
The baggers shouted louder
As civility flew away
When Boehner called for another drink
The Koch boys brought a tray

And so it was that later
As the Speaker told his tale
That the House, at first just ghostly
Turned a Whiter Shade of Male

He said, there is no reason
The truth is plain to see
Although we lost the voting
We gerrymandered free
Inventing vestal virgins
Who pay their own health cost
And though you won the election
You might as well have lost

And so it was that later
As the Speaker told his tale
That the House, at first just ghostly
Turned a Whiter Shade of Male
I truly do not know how the Republican Party can say they represent everyone when their demographics look like this. But they tried. According to BusinessWeek, Representative Michael McCaul of Texas, who will head the Homeland Security Committee (the only committee even considered to have a female chair, Representative Candice Miller of Michigan) said, gender imbalance is "an inside Washington baseball story." He also said, "Half of our leadership is female; that's a big sea change." And he said, "You're going to see them on the TV all the time with leadership."
Kind of a strange sentence to me. If they are leadership, how are you going to see them "with leadership." And if they are leadership, why aren't they being given leadership roles in Congress? Are they only considered to be fit for roles within the Party Conference?
And it still doesn't address the lack of minorities.
There are two committees left to fill, both of which "are known more for headaches than for power: chairman of the Ethics Committee, which judges lawmakers accused of wrongdoing, and the Committee on House Administration, which oversees the nuts and bolts of the multi-office complex on Capitol Hill." House Administration was described elsewhere as "the panel in charge of cafeterias and parking lots." According to BusinessWeek, "Unless Speaker John Boehner chooses a woman to run [one of these], there won't be any chairwomen in the next Congress, which begins in January."
The only woman currently serving as a full Committee Chair, Representative Ileana Ros-Lehtinen of Florida, the Foreign Affairs Committee Chair, must step down due to term limits imposed by Party rules.
There was hope that there would be some women running subcommittees "if the opportunity comes." Don't know what that last statement meant. It would certainly be a step in the right direction.
But for now, the Democrats' assertion that the Republican Party is running Congress with "old white guys" is gaining credence, even if everyone in this picture isn't old.
Thanks to Ms Juanita Jean and the girls at The World's Most Dangerous Beauty Salon, Inc. for bringing this to my attention.